This is an archived article and the information in the article may be outdated. Please look at the time stamp on the story to see when it was last updated.
SAN DIEGO — A UCSD student scooped up in a drug raid and left in a Drug Enforcement Administration holding cell for 4 1/2 days without food or water will get $4.1 million to settle his claims, his attorneys announced Tuesday.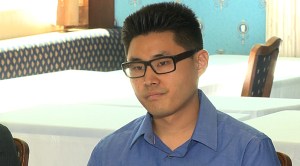 Daniel Chong, 25, was among seven people detained in an April 21, 2012, raid on a University City home. Chong, an student at UCSD, was handcuffed and put in 5-by-10-foot cell, by an officer who told him, "Hang tight. We'll come get you in a minute," his attorney Julia Yoo said.
The door to the cell was not opened again until April 25. Chong had no food water or toilet facilities during that period and he spent the last two days in darkness, Yoo said.
When he was freed, Chong was taken to a hospital for acute kidney failure, muscle degeneration and dehydration. He spent three days in intensive care and was released after five, Yoo said
Chong said Tuesday his body is healing and he expects to graduate next year.
"It was an accident — a really, really bad, horrible accident" Chong said at the offices of his attorneys, Eugene Iredale and Julia Yoo.
He said he did what he had to, including drinking his own urine. He said he kicked the door, screamed, begged and tried to get someone's attention. He said he made repeated but futile attempts to set off a fire sprinkler system.
"I was screaming. I was completely insane," Chong said.
In the months following his ordeal, Chong was diagnosed with post traumatic stress disorder from his "near death experience," his other lawyer, Eugene Iredale, explained.
An investigation as to what went wrong is underway.  "What happened to Daniel Chong should never happen to any human being on the face of the planet," Iredale said.
In the raid, federal agents seized about 18,000 ecstasy pills, some marijuana and some weapons.
Iredale said the government acknowledged responsibility, apologized to Chong and has created policies about handling detainees and checking on their welfare in holding cells.
The Department of Justice settled with Chong out of court, he said.
"It changed my perception quite a bit.  My life, I am just continuing my life," Chong said when asked how the experience changed him.
Chong plans to buy his mother a new home and save the rest of the settlement money.