This is an archived article and the information in the article may be outdated. Please look at the time stamp on the story to see when it was last updated.
SAN DIEGO - A student was critically burned after a fire at a University of California San Diego dormitory Sunday.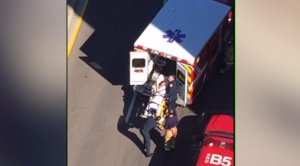 Firefighters were called to Scholars Drive North between Pangea Drive and Northpoint Drive on the La Jolla campus at about 1:30 p.m., where there was a report of a fire in a dorm room on the ninth floor, according to San Diego Fire-Rescue Department spokesman Lee Swanson.
One burn victim was taken by paramedics to the UCSD Medical Center Burn Unit in Hillcrest, where she was listed in critical condition. Her name was not released. No other injuries were reported.
The fire was almost extinguished when firefighters arrived, was declared knocked down in about 10 minutes, Swanson said.
An investigator told FOX 5 the fire may have been intentionally set.
"That's surprising. I can't imagine someone purposely starting fire." Gerardo Belmonte.
Investigators estimated that the fire caused $1,000 damage to the building and $500 damage to the dorm room's contents. The UCSD fire marshal took over the investigation to determine the cause.
Many students were shocked to hear about the fire, especially since they would see the victim in passing and would've never guessed anything was wrong.
"She was kind of really quiet she kept to herself. She always seemed like she was always studious. She kind of kept to herself a lot though," said Gerardo Belmonte.