This is an archived article and the information in the article may be outdated. Please look at the time stamp on the story to see when it was last updated.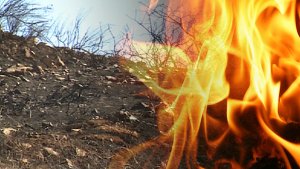 SAN DIEGO — Strong gusty winds and very low relative humidity will heighten the risk of wildfire in San Diego County this weekend, meteorologists said.
"A moderate strength Santa Ana wind event is shaping up for late Thursday night through the weekend," according to the National Weather Service. Sustained northeast to east winds of 25 to 40 miles per hour, with gusts as high as 65 mph through and below canyons and passes, are expected.
"Winds will peak on Friday night and Saturday, then diminish Sunday," an NWS advisory said.
Relative humidity this weekend is expected to be mostly 5 to 15 percent, rising only a few hours each night to above 25 percent.
A fire weather watch is scheduled from 11 a.m. Friday to 2 p.m. Monday for the inland valleys and mountain areas.
"A fire weather watch means that critical fire weather conditions are forecast to occur," according to the Weather Service, which urged residents to listen for later forecasts and possible red flag warnings.