This is an archived article and the information in the article may be outdated. Please look at the time stamp on the story to see when it was last updated.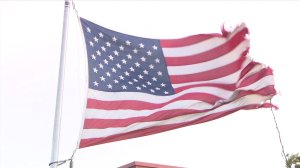 SAN DIEGO — Strong and damaging winds will buffet the valleys and mountains of San Diego County Tuesday and may linger into Thursday, forecasters said.
"North to northeast winds will continue to strengthen near the foothills as an upper-level disturbance intensifies over the desert southwest," according to a National Weather Service statement. "The strong and gusty offshore winds will continue below passes and canyons through this evening, and possibly into Thursday evening as surface high pressure continues to build over the Great Basin."
The agency issued a high wind warning for the valleys and mountains until 10 p.m. and a less serious high wind watch for the mountains from late this evening to Thursday night. A high wind watch is scheduled for the valleys from 10 a.m. Wednesday through 10 p.m. Thursday.
During today's high wind warning, sustained northeast winds of 15 to 30 miles per hour gusting to 60 mph are expected. Also possible are occasional gusts of more than 70 mph through and below passes and canyons, according to the weather service.
"The winds will make driving difficult, especially for high profile vehicles," an NWS advisory said. "Watch for broken tree limbs and downed power lines."
In valley areas, strong winds are expected mainly near coastal foothills from the Ramona and Santa Ysabel area southward, according to NWS forecasters.