This is an archived article and the information in the article may be outdated. Please look at the time stamp on the story to see when it was last updated.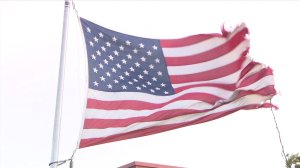 SAN DIEGO – Strong, gusty winds are expected in the mountains and deserts of San Diego County over the weekend, and another round of wind is expected to bluster in at start of the workweek, forecasters said.
The National Weather Service issued a wind advisory for the mountains and deserts, set to take effect at 6 p.m. today and extend until 6 p.m. Sunday.
A more severe high wind watch will follow and remain in effect through late Monday night.
Forecasters said onshore flow would increase across Southern California through Tuesday as a series of troughs moved across the west.
Winds are expected to develop as the first heads in tonight.
Areas of 20 to 30 mile per hour winds, with gusts of up to 55 mph are expected Saturday and Sunday, forecasters said.
Even stronger gusts are expected to follow.
"A second and more potent trough will dig southward along the west coast late Sunday and Monday and into the Great Basin on Tuesday," according to the weather service.
"As a result, progressively stronger winds will likely develop again Sunday evening and night, with even stronger winds possible Monday evening and night."
Sunday night through Monday night, winds of 25 to 40 mph are expected with gusts that could reach up to 70 mph.
Gusts could potentially reach speeds of 80 mph Monday night, forecasters said.
According to the NWS, cities like Borrego Springs and Ocotillo Wells would likely see strong and gusty winds starting Monday night.
The winds could linger in some areas of the county into Tuesday morning, according to the NWS.
Forecasters said the winds could make driving difficult or potentially hazardous, especially for motorists in high profile vehicles.
"These strong and gusty winds will likely cause areas of blowing dust and sand in the deserts, reducing visibilities to a quarter-mile or less at times, especially Sunday night and Monday night," according to the weather service.
Drivers were also advised to watch for broken tree limbs and downed power lines.
Forecasters said residents in the affected areas should secure loose yard furniture, tents, umbrellas and trash cans because they could blow away.