This is an archived article and the information in the article may be outdated. Please look at the time stamp on the story to see when it was last updated.
SAN DIEGO —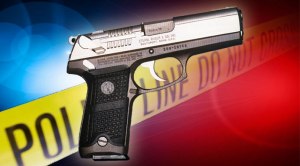 An Escondido man was pistol-whipped Thursday by one of two people he spotted outside his home, who then ran away and prompted police to search the area with a helicopter and dogs, police said.
The homeowner confronted a man and a woman outside his home in the 3900 block of Foxley Drive about 6:50 a.m., Escondido police Sgt. Jim Lanigan said.
Several of his family members were inside the home at the time, the sergeant said.
The male suspect, who was armed with a handgun, approached the resident and they began to scuffle. During the fight, the suspect hit the man in the forehead with the weapon, Lanigan said.
The suspects then ran toward Valley Center Road, Lanigan said.
Lanigan said the suspects' intention at the home remained unknown.
Paramedics treated the homeowner at the scene, Lanigan said.
Police set up a perimeter in the area and used a helicopter and tracking dogs to search for the suspects, but they were not located, Lanigan said.
The suspects were described only as a woman with red hair and a man who was wearing a beanie and was armed with a handgun.