This is an archived article and the information in the article may be outdated. Please look at the time stamp on the story to see when it was last updated.
SAN DIEGO — Two winter storms bearing down on San Diego County are predicted to bring up to 3 inches of rain to coastal areas and up to 6 inches to local mountains, Fox 5 weathercaster Chrissy Russo said.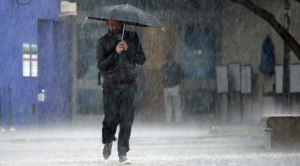 The first and weaker of two winter storms heading to San Diego County may spur light rain in coastal and valley areas as early as Wednesday evening, Russo said.
A weak trough of low pressure will bring gusty winds and a small chance of light precipitation over and west of the mountains late Wednesday into early Thursday. That system was bringing more substantial rain to Northern and Central California, Russo said.
By early Friday, a second and much stronger storm is expected to bear down on the entire region, Russo said.
Rainfall totals from the second storm are expected to range from 2 to 3 inches along the coast to 3 to 6 inches on coastal mountain slopes, Russo said. Rainfall on some south-facing mountain slopes could exceed 7 inches, according to the National Weather Service.
"The rainfall could cause flash flooding and mud and debris flows near recent burn areas as well as urban and small stream flooding," an NWS advisory said.
In preparation for the storm, the San Diego Fire-Rescue Department announced it has a limited number of sandbags available to residents at fire stations in Ocean Beach, the Sports Arena area, Pacific Beach, Kearny Mesa, San Ysidro, Rancho Bernardo, Scripps Ranch, Tierrasanta, Rancho Penasquitos, Santaluz and Pacific Highlands. Bags also are available from lifeguard stations in Ocean Beach, Mission Beach, La Jolla Shores and Pacific Beach.
Residents can receive up to 10 bags at a time and are free to fill them with sand from area beaches.
Wind gusts on Friday are expected to be around 65 miles per hour in the mountains and deserts, and around 40 mph in coastal and valley areas.
The second storm is also likely to generate large, rough surf and strong rip currents along local beaches. The weather service scheduled a beach hazards statement from late Thursday night to Sunday afternoon, saying 8 to 10- foot surf is possible by Saturday afternoon and evening.
Also, a gale watch for mariners off the coast of San Diego County will be in effect from late Thursday night to late Friday night. A gale watch is issued when the risk of gale-force winds of 34 to 47 knots has significantly increased.