This is an archived article and the information in the article may be outdated. Please look at the time stamp on the story to see when it was last updated.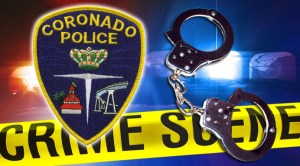 CORONADO, Calif. – Spike strips were used to slow down and stop a stolen pickup truck that had been chased up the Silver Strand Saturday, and the driver was arrested after sneaking into a house window to hide.
The chase began about 12:15 a.m. in Imperial Beach, when a San Diego sheriff's lieutenant attempted to pull over a 2011 Toyota truck because its front license plate was missing.
The truck was first spotted at 13th Street and Cypress Avenue.
Deputies chased it up Route 75 to Coronado, where Coronado police had placed spike strips on Silver Strand Boulevard near Glorietta Bay.
The truck's tires were deflated by the strips, and it came to a stop at Isabella Avenue and E Avenue east of Ocean Boulevard.
The male driver and female passenger jumped out and ran, San Diego Sheriff's Sgt. Marilu Marcq said.
The woman was quickly arrested.
A search conducted by sheriff's deputies, Border Patrol agents and Coronado police, aided by a police dog and a helicopter.
The suspect was later found by Border Patrol agents who spotted a house with an open window, asked the occupant for permission to enter, and found the suspect hiding inside.
Deputies who initiated the pursuit were able to identify the suspect as the driver of the spiked truck. The man was arrested without injury, deputies said.
A record check of the truck confirmed it was stolen from San Marcos November 7.
The names of both auto theft suspects were withheld.