This is an archived article and the information in the article may be outdated. Please look at the time stamp on the story to see when it was last updated.
SAN DIEGO — Thirty women who claim they were mistreated by police during inspections of two strip clubs in Kearny Mesa sued the city of San Diego and police Chief Shelley Zimmerman Wednesday.
"They had certain girls just strip down to nothing," said a dancer, who  goes by the name of Brittany Murphy.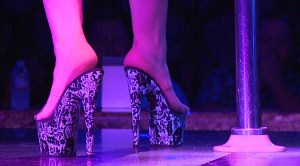 Most of the women, who were employees of Cheetahs and Expose, claim they were held against their will during license compliance inspections on March 6. The remaining two plaintiffs made the same allegations about a raid conducted on July 15, 2013.
Cheetah's general manager said they expect the raids, but this time the cops crossed the line.
"The fact that they were partially dressed, the way they were spoken to. It wasn't the first time and won't be the last time, but the way they were treated  – they were treated like second class citizens," the GM said.
City officials declined to comment on the suit, which alleges that officers blocked exits from the club while others went into the dancer's dressing rooms.
The plaintiffs' lawyer Dan Gilleon alleged the women were interrogated and photographed while nearly nude.
Some of the officers "made arrogant and demeaning comments to the entertainers, and ordered them to expose body parts so that they could ostensibly photograph their tattoos," the suit filed in San Diego Superior Court alleged.
Gilleon said his clients did not consent to the photographs or detention.
The clubs — Expose is on Kearny Mesa Road and Cheetahs is on Clairemont Mesa Boulevard — and dancers are subject to occasional police inspections as a condition of a city-issued license.
After the women filed claims against the city a few months ago, SDPD spokesman Lt. Kevin Mayer told reporters that cataloging tattoos is an important tool for identifying adult entertainers, who can change their appearance with a wig, makeup or colored contact lenses.
Zimmerman was named in the lawsuit because of her status as chief of police, but she'd been in the job only a few days before the inspections took place.
Gilleon claimed Zimmerman knew of, or later ratified, the actions of the officers that deprived his clients of their rights against unreasonable searches and seizures, and made or approved of the decision to photograph the women.
The lawyer is asking for unspecified damages to compensate for emotional distress, pain and suffering.