This is an archived article and the information in the article may be outdated. Please look at the time stamp on the story to see when it was last updated.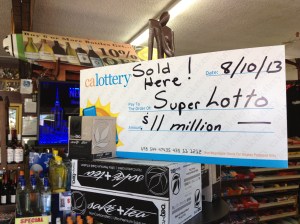 SAN DIEGO — The man who bought a SuperLotto Plus ticket at Golden Hill Liquor in August came forward today to claim his $11 million prize, the California Lottery reported.
Daniel Lindsey bought winning quick pick ticket for the Aug. 10 draw at the store at 2795 B St., and one of its five plays matched the winning numbers of 5, 7, 14, 44, 46, and the Mega number 27, lottery officials said. If the winner chooses the cash value of the prize, as opposed to annual payments, the payout will be about $6.3 million.
Lottery officials were seeking the winning ticket holder for the past two months because the prize must be claimed within 180 days from the drawing, or the money will go to California public schools.
The retailer from which the ticket was purchased will receive a bonus of one-half percent of the prize, or $55,000, lottery officials said.