This is an archived article and the information in the article may be outdated. Please look at the time stamp on the story to see when it was last updated.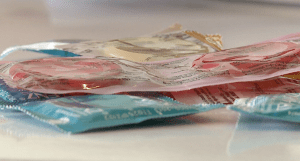 SAN DIEGO, CA — People as young as 12 in San Diego County can now go online and sign up for a state run condom delivery service.
"It will prompt you for your address and your birthdate and if everything lines up you'll be able to order and receive a package of free condoms and educational information," said Amy Coy, spokesperson for the California Condom Access Project.
Teens can getup to 10 condoms delivered to their doorstep at no cost and in confidential packaging.
The federally funded program targets counties with the highest numbers of sexual transmitted diseases among teenagers.
San Diego County has the second highest rate of Chlamydia and the 6th for Gonorrhea among teens statewide.
California law allows teens to gain access to contraceptives without parental consent.
State officials are hoping more access to condoms will help lower the number of STD cases in San Diego.
The program is drawing criticism from conservatives, not just over the debate between abstinence and safe sex; many believe the Condom Access Project is comes between parents and their kids.
"It's one more example of the government's intrusion on parental rights," said Chris Clark, Pastor at Clairemont Baptist Church in San Diego.
"I would ask parents the question; who should be making decisions for the welfare of your child? You or should the state," said Pastor Clark.
"We really just can't keep our heads in the sand and pretend like there isn't a problem," said Coy in response to critics.
The program is in effect right now and runs on a budget of 5 thousand dollars per County it serves.
In its first year, C.A.P. has already distributed 30 thousand condoms across the state.