This is an archived article and the information in the article may be outdated. Please look at the time stamp on the story to see when it was last updated.
SAN DIEGO —  Supervisor Dianne Jacob used the annual State of the County address Wednesday to discuss the expansion of jails to absorb state prisoners and paving the way for business development in rural areas, among other things.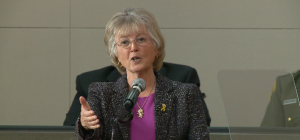 "The County needs to also remain vigilant on another front: our budget," Jacob said.  "Taxpayers expect it.  They demand it."
Jacob applauded the completion of a new sheriff substation in Rancho San Diego, and mentioned the addition of two new ones in Lakeside and Alpine to be built in 2014.
"Instead of traveling from Lemon Grove, they'll be stations in Rancho San Diego," said Sheriff Bill Gore.  "It will make us more efficient, more effective and allow people to drive straight to the station not to Lemon Grove when they want to come and file a complaint."
The county has about a $5 billion budget, and uses mostly cash to pay for capital improvements to avoid taxpayers from having to pay high interest rates.  However, of great concern, Jacob said is the effect of realignment — the early release of prisoners.
"The state is dumping a big part of it's law and order duties," Jacob said.  "I call it a mess.  It crowds our jails.  It makes it tougher to keep the peace.  It means criminals are getting out before they should."
As a result, Jacob said, the county will increase beds at detention centers.
"This year, we're expanding detention centers and adding 400 jail beds," she said.  "We're improving rehabilitation programs to help inmates get their footing when they get out."
Handling and overseeing senior centers in the county is main priority in 2014.  Jacob said some care facilities lack in proper training and as a result the elderly are being neglected, and in some cases, dying.
"No question about it, we are going in the wrong direction," she said.  "The district attorney and I are moving to create a special prosecution unit that would crack down on assisted living homes operating on the wrong side of the law."
Jacob had good news for rural business owners. The county promises to make it easier to set up breweries and wineries for those wanting to get in on this booming business trend.
"I've got three words for you — bees, beer and burgundy," she said.
Jacob said county officials were committed to boosting business in the back country. In recent years, the county has made it easier to open farmers markets, and worked to cut red tape for horse stable owners and winemakers.  The board is now looking to ease regulations for beekeepers and craft brewers, she said.