This is an archived article and the information in the article may be outdated. Please look at the time stamp on the story to see when it was last updated.
SAN DIEGO — A man suspected of firing a gun inside a La Jolla condominium refused to come out for several hours Friday before finally surrendering to, authorities reported.
A friend of a person who lives at the complex in the 3200 block of Via Marin reported the gunfire about 9:30 a.m., saying it had occurred about two hours earlier, according to San Diego police. The reason for the delay in alerting authorities was unclear.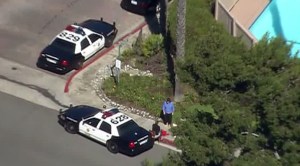 The caller reported that two shots had been fired about five minutes apart, with at least one bullet traveling through an interior wall and into an adjacent condominium, SDPD public-affairs Lt. Kevin Mayer said.
Patrol officers cleared residents out of the east side of the complex as a sergeant at the scene tried to contact the suspect by telephone. The man, who could be seen pacing around inside the condo and peeking out a window, answered one of the calls but promptly hung up.
The standoff continued until shortly after noon, when the suspect, identified as Alan Deller, 63, exited and was taken into custody without further incident. He was expected to be booked into county jail on suspicion of discharging a firearm inside an occupied structure and possessing a switchblade, the lieutenant said.
"I cannot believe it," said a neighbor. "He is the President of our Homeowner Association. During the floods, he helped me. I'm absolutely shocked that he even had a gun!"
The motive for the gunfire remained unknown in the late afternoon.
"Our investigation is still continuing," Mayer said.