This is an archived article and the information in the article may be outdated. Please look at the time stamp on the story to see when it was last updated.
SAN DIEGO — One day after taking over as San Diego's first female police Chief Shelley Zimmerman was recognized Wednesday at a ceremony for women in law enforcement.
T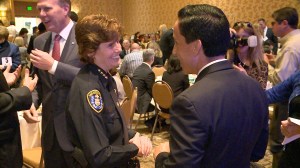 here were two standing ovations during Wednesday's Women in Blue luncheon at the San Diego Hilton Bayfront Hotel. The first was for Zimmerman.
"I'm just honored," said Chief Zimmerman. "You talk about the timing of this event, wow!"
The second standing ovation was for the three ladies recognized as trailblazers in law enforcement.
"The three women that are being recognized today are outstanding leaders in their own field," said Zimmerman.  "I'm just honored to be here and proud to be here with them. This is their day."
Women in Blue is a program of the San Diego Police Foundation that provides unmet needs for equipment, training and outreach for the SDPD.  The luncheon included dignitaries like newly sworn-in Mayor Kevin Faulconer, SD Council President Todd Gloria, Councilmember Marti Emerald and Sheriff Bill Gore.
The women honored include San Diego County Assistant Sheriff Patricia Duke, the first woman to lead the Sheriff's Law Enforcement Services Bureau.  Daphne Hearn was also recognized for being the first female SAC for the FBI in San Diego.  Jennifer Shen was recognized for being the first woman in charge of the San Diego Police Department's Crime Laboratory.
When asked why she was selected to be honored Patricia Duke said she wondered the same thing since there were so many qualified women in law enforcement.
"I think I've lead the way or lead the charge for women in uniform," she said. "There were some challenges along the way but it's what you do with the challenges and the obstacles and the opportunities that come with it."
She said she couldn't think of a more rewarding career.