This is an archived article and the information in the article may be outdated. Please look at the time stamp on the story to see when it was last updated.
SAN DIEGO- Sissy Carrasquilla said she won't be able to get her fiancé's dying words out of her head.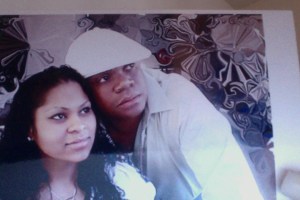 She talked to Fox 5 on the phone from their home in Las Vegas Friday.  Her fiancé Jerry Faulkner, 35, was fatally stabbed in the back outside his mother's Oceanside home on the 400 block of Los Arbolitos Boulevard Wednesday.  His cousin LaShauna Blanks, 24, is charged with his murder.  She pleaded not guilty at her arraignment Friday.
"I couldn't look any more," said Carrasquilla.  "It was crippling me looking at him just lying there because she was still walking around with the knife."
Carrasquilla said it started Tuesday when the family went out to eat to a restaurant in Rolando.  She said she and Blanks got into an argument about parenting styles.
"I told her she was an unfit mother," said Carrasquilla.
She said that continued over to Wednesday when the two started fist fighting at a family gathering outside Faulkner's mother's home in Oceanside.
"He (Faulkner) lifted her off me twice and she got really upset that he did that," she said.
She told Fox 5 that's when Blanks went inside and got a knife.
"She went straight for him but he didn't see her coming because he was talking to his sister so she stabbed him in the back," said Carrasquilla who was standing nearby. "The only thing I heard was, 'Baby I'm dying.' That was the only thing he said that was his last words just, 'Baby I'm dying.'"
She said Faulkner then fell to the floor. His sister tried giving him CPR but he didn't survive.  Carrasquilla said she and Faulkner have been together eight years and have three kids together.  She said she has a message for anyone with a loving partner.
"I took for granted his love.  Every time I woke up, he used to hold me and say, 'Good morning my love,'" she said.  "Don't take for granted their love because they're there because you never know when they're gone."
Carrasquilla told Fox 5 Blanks had lived in Memphis but recently moved in with them in Las Vegas.