This is an archived article and the information in the article may be outdated. Please look at the time stamp on the story to see when it was last updated.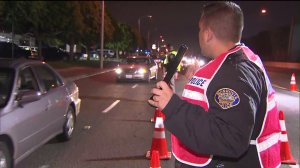 SAN DIEGO – The countywide DUI enforcement program Operation Green Mile, begins its five-day run Friday.
Officials say the operation is an effort to prevent alcohol-related deaths and injuries through increased DUI enforcement.
Local law enforcement will also increased monitoring of local bars and restaurants to make sure they are not serving alcohol to intoxicated customers.
Officials say local communities typically experience a spike in drunk-driving accidents during St. Patrick's Day weekend. On St. Patrick's Day in 2011, more than a third of fatalities from motor vehicle crashes – 34 percent – were connected to drunk driving. This is a 3 percent spike from the daily average.