This is an archived article and the information in the article may be outdated. Please look at the time stamp on the story to see when it was last updated.
Hundreds of battle-wary firefighters made the transition to mop-up mode Sunday as the 28,000-acre Springs fire in Ventura County was declared 75% contained, with full containment expected Monday.
Several engine companies were sent home Sunday as hand crews worked to establish a more-than-mile-long fire break in the Hidden Valley area to complete containment of the blaze, which burned all the way from Thousand Oaks to the ocean.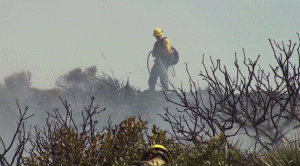 "We're going to have this thing out by tomorrow," Ventura County Fire Capt. Scott Dettore said. "Probably by Monday evening."
Although the cause of the fire remains under investigation, officials said Sunday that they had ruled out arson and instead believed the blazed was started by a small, "undetermined roadside ignition of grass/debris."
The fire started Thursday at the edge of the southbound 101 Freeway near Thousand Oaks, about a quarter-mile north of the truck scales on the Conejo Grade, according to the California Department of Forestry and Fire Protection.
"The area is considered a collection point for fuels and ignition sources. Due to the topography, the fire quickly spread, fanned by strong east winds," the agency said in a statement.