This is an archived article and the information in the article may be outdated. Please look at the time stamp on the story to see when it was last updated.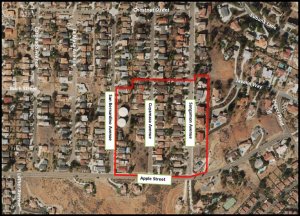 SAN DIEGO -- County officials Tuesday notified residents of a Spring Valley neighborhood that they will conduct a precautionary spraying for mosquitoes after someone in the area contracted Zika virus while traveling.
The spraying is scheduled for Thursday in Spring Valley, weather permitting. The area that will be hand-sprayed contains 49 residences on approximately 13 acres, bordered by San Bernardino Avenue to the west, Apple Street to the south, and just east of Sangamon Avenue to the east.
This will be the ninth time that the county has sprayed in a neighborhood where someone was sickened with Zika, a mosquito-borne illness. The idea is to prevent a mosquito from biting the infected person, and spreading the disease to the Aedes mosquito population, which could get more people sick.
So far, no infected Aedes mosquitoes have been found in the San Diego region, and all local cases of Zika have resulted from travel to areas where the disease is prevalent, according to county health officials. In the United States, one person was infected domestically in Florida earlier this summer. While the virus is not usually deadly, one person did die in Salt Lake City from complications related to the virus.
The Zika virus came to light earlier this year when some infected pregnant women gave birth to babies with microcephaly, which causes heads and brains to be smaller than normal. Around 20 percent of people who contract Zika actually get sick.
Pesticide was also sprayed in San Diego neighborhoods of South Park in August; in Mount Hope, Normal Heights, Grant Hill and Skyline last month; and Lemon Grove about three weeks ago.
The pesticide used by the county, Pyrenone 25-5, is derived from chrysanthemums. County officials say Pyrenone 25-5 poses low risks to people and pets and dissipates in roughly 20-30 minutes.
However, area residents who want to minimize their exposure can take precautionary steps, including:
— staying inside and bringing pets indoors if possible;
— closing doors and windows;
— turning off fans that bring outdoor air inside the home;
— covering ornamental fish ponds to avoid direct exposure;
— rinsing fruits and vegetables from gardens with water before cooking or eating;
— wiping down or covering outdoor items such as toys; and
— covering barbecue grills.