This is an archived article and the information in the article may be outdated. Please look at the time stamp on the story to see when it was last updated.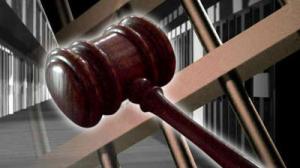 SAN DIEGO — The former chief financial officer of a publicly-traded company based in San Diego was sentenced Monday to 41 months in federal prison for embezzling more than $1 million to fund a fledgling professional football league.
U.S. District Judge Marilyn Huff also ordered Jaime Cuadra to pay restitution to his former employer and to pay $387,347 in back taxes to the Internal Revenue Service.
Cuadra, ex-CFO of Oceanic Enterprises Inc., previously pleaded guilty to wire fraud and filing a false federal income tax return for embezzling $1,089,813 from Oceanic and its parent company, Umami Sustainable Seafood Inc.
"Mr. Cuadra's brazen theft of corporate funds from one of our local companies was born from based motives … ego and greed," said U.S. Attorney Laura Duffy. "Such crimes shake the foundations of our businesses and cause investors to lose confidence in the markets. Our office will forge ahead with our commitment to investigate and prosecute this sort of fraud wherever it may occur."
According to court documents, Cuadra embezzled the money from 2010 to 2013 by taking advantage of his access to one of Oceanic's business accounts as the company's CFO. Cuadra admitted that he carried out the scheme, in part, by falsifying Oceanic's financial records by coding illicit transfers and expenditures as legitimate business expenses.
Court records show that during the time of the fraud, Cuadra not only served as Oceanic's CFO, but also as the president and CFO of a fledgling football league.
Cuadra, 54, converted Oceanic's funds to financially support the football league as well as for his personal benefit, prosecutors said.
Specifically, he used stolen funds to develop the football league and attract investors by paying league executives, as well as the league's marketing, consulting and public relations fees.
For example, he directed more than $200,000 to a woman who served as the league's chief marketing officer and executive vice president at the time.
Court documents show Cuadra's use of embezzled funds for his personal expenditures included:
support for other business ventures, including a T-shirt business
leasing a Porsche Cayenne
travel, hotels and meals
a variety of miscellaneous purchases, including artwork, designer clothing and tickets to sporting events
transfers to several personal accounts