This is an archived article and the information in the article may be outdated. Please look at the time stamp on the story to see when it was last updated.
SAN DIEGO – The owners of a dog that went missing Saturday evening after a plane crashed into a Clairemont home, are asking for the public's help finding the possibly injured dog.
Charlee was being walked when a power line snapped and scared her. She bolted into the neighborhood when she separated from her owners.  She was reportedly hit by a car and ran off limping.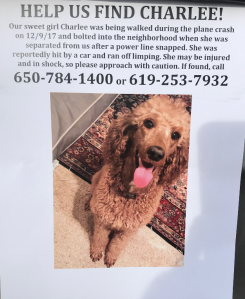 Charlee may be injured and in shock so anyone who comes across her should approach with caution.
According to the FAA, the plane – a single-engine Beechcraft B36 Bonanza reported "catastrophic engine failure" shortly after takeoff from Montgomery field Saturday afternoon.
The plane crashed into a home on Chandler Drive near Mt. Abernathy Avenue and burst into flames.
Two people on board the plane died, two others were transported to a local hospital and a dog in the house was killed.
Kyle Thomas and his mother, 83-year-old Marcia Fields live next door to the house where the plane crash-landed. They showed FOX 5 video of the crash, the damage and just how close the plane came crashing through Fields' bedroom window.
"It was sudden, it was violent and there was no warning," said Thomas. "I believe the fence diverted the plane in this direction and prevented the plane from hitting our house."
While their home did sustain quite a bit of damage, Thomas and Fields are just grateful to be alive and said their thoughts are with those who lost their lives.
"I would like to acknowledge the pilot as being a hero because he made the attempt to land and he did land," said Thomas. "He just wasn't able to stop the plane."
The FAA and NTSB are investigating the crash.