This is an archived article and the information in the article may be outdated. Please look at the time stamp on the story to see when it was last updated.
SAN DIEGO — A lengthy multi-freeway chase that began in the Old Town area, then headed into Rancho Bernardo, finally ended in Mission Valley when the speeding pickup truck ran over a spike strip, authorities said.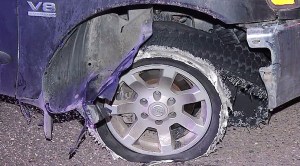 The pursuit began on eastbound Interstate 8 at Taylor Street about 9:20 p.m. Thursday after an officer spotted the motorist driving recklessly and tried to get the driver to pull over, according to the California Highway Patrol.
The man, who was driving a Nissan Titan pickup, refused to stop and drove from I-8 to southbound Interstate 15, exiting the freeway at Adams Avenue before getting onto northbound I-15, the CHP reported.
The pursuit continued from north I-15, at times reaching speeds over 100 mph. The pickup exited the freeway at Rancho Bernardo Road, then got back on southbound I-15 and eventually got onto state Route 163. A spike strip was successfully deployed on state Route 163 at Clairemont Mesa Boulevard, and the suspect stopped and was taken into custody at state Route 163 and Friars Road, according to the CHP.
The name of the driver was not immediately released.