This is an archived article and the information in the article may be outdated. Please look at the time stamp on the story to see when it was last updated.
SAN DIEGO –  The most recent recipients of America's highest military honor were recognized Friday with the unveiling of a specially painted aircraft at MCAS Miramar.  General James F. Amos, the Commandant of the Marine Corps, rode inside the jet during the missing man formation over the airbase.
"It's one of those priceless moments," said Sgt. Brian Cudnohufsky, who painted the jet with the special Medal of Honor theme.
The F-18 was don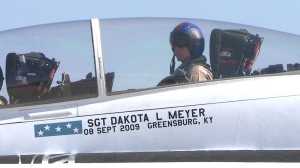 ated by NASA to Marine Fighter Attack Squadron 101.  It honors two Marines and two Navy service members– the late Cpl. Jason   Dunham, Sgt. Dakota Meyer, the late Petty Officer Second Class Michael Monsoor and the late Lt. Michael Murphy.  The Monsoor family attended Friday's ceremony.
Work on the aircraft started nearly two weeks ago.  The white aircraft includes the names of each of the recipients. It also includes the Navy Crest, the Eagle, Globe and Anchor and a Medal of Honor decal on the speed break.
"My hope is that folks can be inspired by men that have given it all and really have asked for no thank you at all," said Commanding Officer of VMFAT 101 Lt. Col. Bob Brodie.  "They really have just dedicated their whole life to something that's much bigger than they are as any individual."
Lt. Col. Brodie said the aircraft will remain painted and will continue to fly out of MCAS Miramar.