This is an archived article and the information in the article may be outdated. Please look at the time stamp on the story to see when it was last updated.
SAN YSIDRO, CA — The crowd that rushed Border Patrol agents earlier this week after illegally crossing the border in the Tijuana River channel was a planned act of disobedience, sources within Border Patrol told Fox 5 Tuesday.
"The tension went way up," said Border Patrol Agent Gabe Pacheco, speaking on behalf of the National Border Patrol Council about the handful of agents at the scene who called for back up against the large crowd said to have been well over 100 people.
"They were saying, 'You can't do anything to us. We own this," Pacheco said.
Customs and Border Protection officials said the crowd also threw rocks at Border Patrol agents, who responded with pepper rounds and other non-lethal weapons.
"We deployed non-lethal munitions, and we finally got the crowd to disperse," Pacheco added.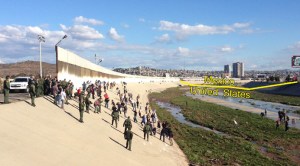 The incident comes just weeks after CBP rejected a recommendation by a federal committee to end the use of lethal force against rock throwers.
"I commend the Border Patrol agents. They really showed a tremendous amount of restraint," said Pacheco.
The crowd eventually went back over the line.
"It could've escalated," said immigration activist Enrique Morones, who also praised agents for not having used deadly force. He said the crowd was made up of people who have been deported in the past and are living homeless in or near the channel.
"They're frustrated. They're desperate. They want to go back to their families (in the United States)," said Morones.
The tactic of large crowds rushing the border to cross illegally used to be seen more often during the early 1990's.
"I hope it doesn't happen again, but it might happen," said Pacheco. He said that frustration over Congress' inability to pass immigration reform could lead to more illegal crossings of large crowds, a tactic that could put lives at risk.