This is an archived article and the information in the article may be outdated. Please look at the time stamp on the story to see when it was last updated.
SAN DIEGO – Nearly 200 Sorrento Valley residents stood in front of the Mira Mesa Planning group Monday night to voice their concerns about newly erected signs placed in their neighborhood.
Residents began seeing Mira Mesa signs popping up in their neighborhood and began voicing their anger.
Juli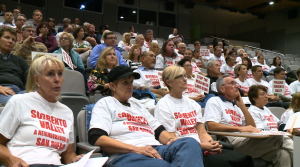 a Schriber, president of the Sorrento Valley Town Council, said Mira Mesa community leaders had no right to post the signs.  The residents said they worry their community's identity is being ripped away from them – along with it their property values.
"Why did you put up those signs?" yelled one protester.
Mira Mesa Town Council President Ted Brengel argued that Sorrento Valley is not a community and referred to a map showing that it's been in place for 40 years.
"They say we are Sorrento Valley and we operate all the western side of Mira Mesa. No!" said Brengel.
Sorrento Valley residents presented reasons why they felt Mira Mesa leaders were trying to annex their neighborhood.
"We are Sorrento Valley and we deserve recognition," said one homeowner.  "We deserve signs that say we are a neighborhood of San Diego."
At the end of Monday's meeting, the planning group voted most of the signs must come down. The timeline has yet to be determined.