This is an archived article and the information in the article may be outdated. Please look at the time stamp on the story to see when it was last updated.
SAN DIEGO – Homeowners in Sorrento Valley are up in arms over placement of new signs in their neighborhood.
About a year ago, Mira Mesa signs started popping up in their neighborhood creating a firestorm among residents.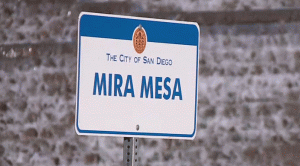 "We are upset our Sorrento Valley neighborhood has Mira Mesa signs," said resident Julia Schriber.  "The signs bother us very much."
Homeowners blamed the Mira Mesa Community Planning group for trying to annex Sorrento Valley.
"We have higher property values," said Chris Thayer. "This is not Mira Mesa!"
Ted Brengel with the Mira Mesa Town Council said the city map from 1965 shows Sorrento Valley as a neighborhood of Mira Mesa, not a community.
"It's not a community, it's a neighborhood," said Brengel.  "Mira Mesa is a community that includes that neighborhood and a number of others."
Brengel said Sorrento Valley doesn't have resources, parks, schools like Mira Mesa does.  Although, homeowners point to their businesses and post office.
Homeowners who have called Sorrento Valley home for years said they worry their property values will be impacted.  Some residents have gone so far as to knock down and run over the new signs.
"It's not petty.  It's recognition of what makes our neighborhood distinct," said homeowner Craig Jackson.
The Mira Mesa Community Planning group plans to meet in October and decide how to handle the dispute.