This is an archived article and the information in the article may be outdated. Please look at the time stamp on the story to see when it was last updated.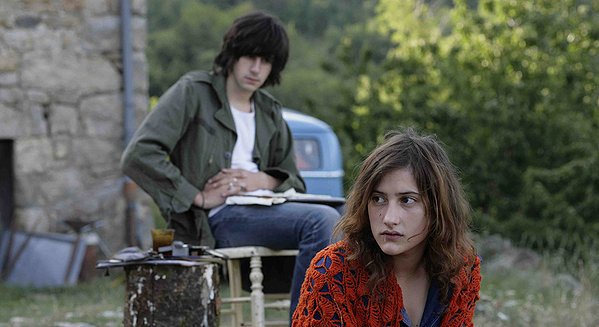 I was so worried this would be the French version of Bertolucci's The Dreamers. And don't get me wrong, some of this will remind you of that mess of a movie all the critics drooled over.
This was written and directed by Olivier Assayas, who a few years ago gave us the interesting Carlos. That biopic dealt with Venezuelan terrorist Carlos the Jackal (Ramirez Sanchez) from 1973 to 1994. Something in the Air goes a few years earlier to 1971, in a semi-biographical story of rebellious students/artists in France. It's a coming-of-age story about an aspiring artist and filmmaker (the director based this on himself), and like Carlos and The Dreamers, characters get involved in radical politics. Something about characters that throw molotov cocktails, spray paint walls and damage schools, always make them appear a bit naïve.
Gilles (Clement Metayer) sells left-wing newspapers outside the school and creates avant-garde paintings and flyers. One of the many well-shot scenes involves watching the mimeographs that were used to create the flyers. There are protest that involves many being beaten by the cops, in yet another well-shot scene.
During a vandalism of their school, one security guard is knocked out. A student ID is found, and the culprits decide to travel across Europe during the summer so things can cool off.
Gilles is also dealing with the breakup of his girlfriend Laure (Carole Combes), but is soon in the arms of another cutie named Christine (Lola Creton). They're a great looking young cast, but they aren't fleshed out or interesting enough.
Alain is another artist, and he hooks up with an American redhead (India Salvor Menuez). When they meet at a garden party, she talks about studying "the spiritual side of dancing." They smoke, drink, pop pills, all while a guy plays guitar and sings a protest song in the background. At one point she puts a pill on her tongue and leans in to kiss him for the first time. She quickly stands up, grabs his hand, and they run off into the bushes as the scene fades out. You feel like you were transported in a time machine right back to this time. Just as when I watched Not Fade Away (a much better movie from last year that), the time period was nailed. It's very atmospheric with the visuals, the camera shots, and a soundtrack that includes Soft Machine, Tangerine Dream, Nick Drake, Captain Beefheart, and a little Green Onions coming from the jukebox at a pub.
(I was a bit disappointed to not hear the Thunderclap Newman song Something in the Air)
These four check out the sights, and gather footage for a documentary that they hope will expose the plight of Italian laborers.
It's a shame that the narrative is sloppy, and it just goes from one location to another. All in great shots and scenes, which feel wasted when it's all said and done.
The protagonist is also a bit vague in many regards. He has the facial expressions, the tie-dye shirt, and lots of great hair – but he very rarely says anything all that profound. He seems to be growing tired of his friends, but at a two hour length, this movie had me tired of them at about the hour mark.
It's a shame this movie wasn't better. As I sit here writing this, I can think of a few powerful scenes. At one party, a girl is buzzed as she wanders the mansion. We see guests talking by candlelight. Others are out by a bonfire. I was thinking it was every bit as interesting as one of the party scenes in The Great Gatsby. That filmmaker spent $150 million on the movie – most of that going to the elaborate party scenes. This probably only had $150 spent on that specific party scene.
Another scene I loved showed Gilles at a tree in the beautiful countryside. We see his ex-girlfriends name carved in the tree. He lights candles, and rips a page out of Gregory Corso's Gasoline, and burns it there. Earlier in the movie, she had given him the poems before telling him she was leaving for London. He read them aloud from a far shot that was just perfect. It makes this scene bookend that wonderfully.
Robin Williams once said "If you remember the '60s, you weren't really there."
Well, filmmakers David Chase (Not Fade Away) and Olivier Assayas certainly remember the time, and recreated it better than any filmmakers recently. You're probably better off renting the criminally under-seen and appreciated Not Fade Away.
Something in the Air gets 2 stars out of 5.