This is an archived article and the information in the article may be outdated. Please look at the time stamp on the story to see when it was last updated.
SAN DIEGO — Crews Tuesday snuffed out the remaining hot spots of a 95-acre weekend fire in Mission Trails Regional Park.
The blaze erupted for unknown reasons in the open-space area east of Mission Valley shortly after 2 p.m. Sunday, according to the San Diego Fire- Rescue Department.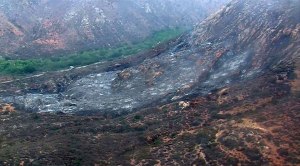 As crews worked to subdue the flames, parks authorities closed a stretch of Father Junipero Serra Trail, along with Climbers Loop, Oak Grove Loop, Kwaay Paay Trail and a visitor center, SDFRD spokesman Lee Swanson said.
A firefighter suffered heat-related trauma while battling the blaze and was taken to a hospital. No other injuries were reported.
As of late Tuesday afternoon, most of the park was open again to the public, though a few trails in the burn area remained off-limits until further notice, Swanson said.
The cause of the fire was under investigation.