This is an archived article and the information in the article may be outdated. Please look at the time stamp on the story to see when it was last updated.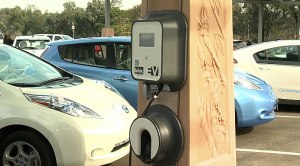 SAN DIEGO — A facility that will use solar energy to charge plug-in electric vehicles opened Tuesday in the San Diego Zoo's parking lot.
The "Solar-to-EV" project uses a canopy on 10 solar panels to provide power to five charging stations. Solar energy will directly power up electric vehicles, be stored for future use or distributed to the San Diego Gas & Electric grid.
The utility owns and manages the facility, which is touted by Clean Tech San Diego as one of the first of its kind in the United States.
"This project will serve as a new energy infrastructure blueprint that can be replicated throughout the San Diego region and beyond," Mayor Jerry Sanders said.
The solar panels will also provide shade to as many as 50 cars in the southeastern part of the zoo's expansive parking lot.
"As part of our ongoing effort to be a conservation leader, San Diego Zoo is thrilled to host the solar-to-EV project and help set the stage for the future," said John Dunlap, the zoo's director. "By providing a sustainable energy mechanism at one of San Diego's most well-known destinations, the zoo is not only providing this vehicle charging option to our guests, but also raising awareness for new technologies for the millions of people we host from all over the world."
The solar panels will create 90 kilowatts of power, enough to power 59 homes, officials said.