This is an archived article and the information in the article may be outdated. Please look at the time stamp on the story to see when it was last updated.
COSTA MESA, Calif. – A Costa Mesa fire captain who was struck and critically injured in a crash involving a suspected DUI driver while cycling over the weekend has died, officials announced Monday.
Costa Mesa Fire and Rescue announced the passing of Capt. Mike Kreza on Twitter.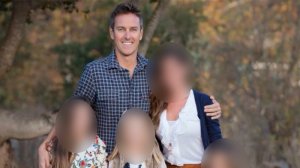 "Our brother, Mike Kreza passed away early this morning. Words alone cannot describe the immeasurable heartache felt by his friends & family, including his fire family. No further information will be provided at this time. RIP brother Mike, we love you!"
The crash happened Saturday morning on Alicia Parkway near Via Burgos, according to a joint statement from the fire department and the Orange County Sheriff's Department.
Witnesses said the driver of a van struck Kreza, who was training for a triathlon, as he was riding eastbound on Alicia Parkway, KTLA reported. The captain, an 18-year veteran with Costa Mesa Fire and Rescue, was off-duty at the time. He was training for a triathlon event in Arizona, according to the Costa Mesa Fire Fighters Association.
The Sheriff's Department said it responded to the location shortly after 8 a.m. and found the victim on the ground unresponsive with apparent trauma to the head and body. The O.C. Fire Authorities took him to a local hospital.
The motorist remained at the scene, where a deputy evaluated him for DUI. The driver, identified as 25-year-old Stephen Taylor Scarpa, appeared to be under the influence of a controlled substance at the time of the crash, authorities said. Officials also reported finding multiple prescription medications inside his vehicle.
Scarpa was booked into jail on $100,000 bail.
Deputies with the Sheriff's Department held a candlelight vigil for Kreza on Saturday evening.
Costa Mesa Fire and Rescue said the captain was surrounded by his family and friends throughout the weekend as he was listed in critical condition.
"We are eternally grateful for the outpouring of support from our brothers and sisters from fire departments, law enforcement agencies, and the collective communities throughout the state," the agency said.
A GoFundMe page has been set up for Kreza and his family. It has raised nearly $75,000 by Monday morning.
*Captain Kreza Update*

Captain Mike Kreza is still unresponsive and in critical condition, the next several hours are critical.

Captain Kreza is surrounded by his family & friends, including his fire family. pic.twitter.com/r1OTrYZO6a

— Costa Mesa FD (@CMFD_PIO) November 4, 2018
FOX 5 reporting partner KTLA contributed to this story.