This is an archived article and the information in the article may be outdated. Please look at the time stamp on the story to see when it was last updated.
MILWAUKEE — A 25-year-old woman suffered serious injuries when a Milwaukee County Sheriff's deputy rolled through a stop sign and crashed into her car, but what happened next was even worse.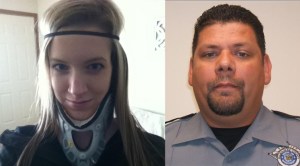 An investigation by Tribune news station WITI-TV has uncovered evidence that the deputy, Joseph Quiles, was clearly at fault when he crashed into a car being driven by Tanya Weyker. Even so, she was arrested on drunk driving charges.
Weyker said she suffered a fractured neck as a result of the crash which happened in February 2013. Her injuries were too severe to allow her to give a field sobriety test or even a breath sample, she told WITI-TV. Without any evidence, another law enforcement officer arrested Weyker anyway on five separate charges including drunk driving causing injury.
In his official report, Quiles wrote that he stopped at the stop sign and looked both ways before pulling out. He told a Milwaukee police officer that he never saw any headlights, even though Weyker's Camry had lights that come on automatically.
However WITI obtained video from a nearby surveillance camera that showed the squad car turning without making a complete stop.
At the hospital, doctors took blood samples from Weyker.  Later tests found she had no alcohol in her system.  It took months, however, for charges against Wyeker to be dismissed by the district attorney.
Wyeker said she is waiting for the state to pay her medical bills for the crash. She has also filed a complaint against the deputy, which could lead to a lawsuit against the county.