This is an archived article and the information in the article may be outdated. Please look at the time stamp on the story to see when it was last updated.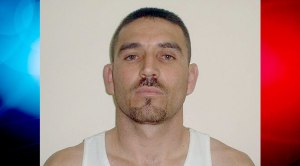 ALPINE, Calif. — A suspected immigrant smuggler with a long rap sheet fled on foot from a traffic stop near Viejas Casino Friday, prompting an intensive manhunt in the surrounding hills and ravines.
U.S. Border Patrol officers spotted fugitive Martel Valencia-Cortez's vehicle traveling through the Alpine area about 5 a.m. and tried to pull it over, according to USBP public affairs.
Valencia, the subject of a federal arrest warrant, pulled over and ran off, and the agents were unable to catch up to him.
Border Patrol personnel searched the area through the morning on the ground and aboard a helicopter, and set up a traffic checkpoint near where the suspect disappeared.
Officials believe Valencia may attempt to steal a vehicle in order to escape into Mexico. He has an extensive criminal record and a history of driving erratically — sometimes speeding the wrong direction on streets and freeways — to evade capture, according to the federal agency.