This is an archived article and the information in the article may be outdated. Please look at the time stamp on the story to see when it was last updated.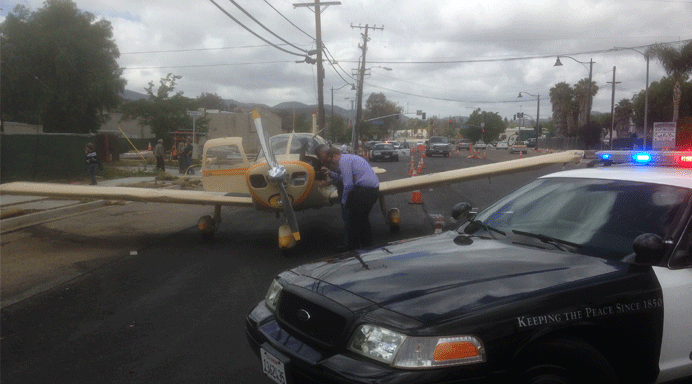 SANTEE, Calif. – A small plane made an emergency landing on a street and rolled through an intersection in Santee Saturday, deputies said.
Two people aboard the small yellow Piper Cherokee 140 landed it at Cuyamaca Street and Prospect Avenue just after 10:30 a.m. and "clipped" the side of a truck at the intersection.
"Just saw a plane and the wing tip hit me – that was it," said Larry Clifford, who was driving the truck. "He (the pilot) got fortunate there was a red light on Cuyamaca. There was no cross traffic other than one idiot turning left in front of him – and that was me."
A witness told FOX5 San Diego Sheriff's Department deputies and Heartland Fire Department crews were called to assist the pilots after they landed.
The pilot told FOX5 he was flying from Phoenix to Montgomery Field when the plane's engine stalled. He wanted to land at nearby Gillespie Field, but it was too late.
No one was injured, deputies said.
Federal Aviation Administration investigators were at the scene for hours before the plane was towed away.
Download Fox 5 iPhone app  |  Download Fox 5 Android app