This is an archived article and the information in the article may be outdated. Please look at the time stamp on the story to see when it was last updated.
SAN DIEGO – The pilot of a small aircraft was killed Wednesday morning when the plane crashed in Kearny Mesa between Interstate 15 and Montgomery Field, authorities said.
Emergency crews were dispatched to the crash a little after 6:30 a.m. in a lot outside a business at 4450 Ruffin Road between Balboa Avenue and Ridgehaven Court, San Diego Fire-Rescue Department spokeswoman Monica Munoz said. Nobody on the ground was injured.
The pilot was the only person on board and died at the scene, San Diego police Officer Tony Martinez said.
Online records show the plane was a single-engine, fixed-wing Cirrus SR 22T registered to a doctor in La Jolla. Authorities were working this morning to identify the victim.
It wasn't immediately clear what caused the crash, authorities said. Skies were clear at the time and the sun had just risen over the horizon. Footage from several television stations showed the downed aircraft appeared badly damaged, with most of its front end destroyed.
A SigAlert was issued for Ruffin Road between Balboa Avenue and Ridgehaven Court. All lanes in both directions were expected to be closed for several hours during the investigation.
The deadly air accident is the second this month following a Feb. 6 crash in Santee near Gillespie Field that killed 70-year-old Irvine medical school professor John Longhurt and his wife, 71-year-old Cherril Longhurst.
After closing for several hours, Ruffin Road reopened between Ridgehaven Court and Balboa Avenue just before 11 a.m.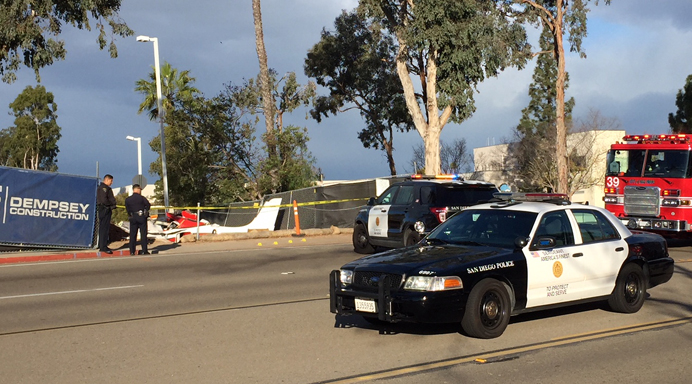 SDFD Crews are at scene of a small plane crash in the 4400 block of Ruffin Rd.

— SDFD (@SDFD) February 21, 2018