This is an archived article and the information in the article may be outdated. Please look at the time stamp on the story to see when it was last updated.
EL CAJON, Calif. – Two people were aboard a small plane when it crashed in northern El Cajon Sunday.
A small plane was reported to have come down near the intersection of North 2nd Street and El Rey Avenue near the Church of Jesus Christ of Latter-day Saints at about 2 p.m., said Mark Casey of Heartland Fire and Rescue, which serves El Cajon, La Mesa and Lemon Grove.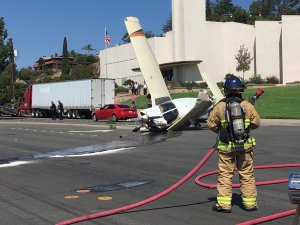 The crash site was about 1½ mile east of Gillespie Field, but it was not clear if the plane was taking off or landing there.
Two people were in the plane at the time of the crash, but neither were seriously injured, and both refused medical treatment, Casey said. The pilot of the plane, Brian Fink of Ramona, was
The pilot of the plane was Brian Fink of Ramona. When FOX 5 contacted Fink's family on Monday, they said he was fine and back at work. He declined to talk about the crash.
A man named Marty was working in his office nearby when he heard the crash. By the time he made it outside to see what happened, the two men inside the plane had already made their way out of the wreckage.
"It was amazing. Even though they crashed their plane, they were worried about everyone else," Marty said.
No one on the ground was injured in the crash.
The plane was leaking fuel after the crash, which was initially a cause for concern, but firefighters managed to put a stop to the leak, Casey said.
"They crashed in front of a church – God's looking out for you. It's just a wonderful thing," Marty said. "Thank God for miracles."
A spokesperson with the FAA told FOX 5 initial reports showed the plane lost power before crashing; however, the agency along with the NTSB are still looking into the cause of the crash.
#BREAKING – Plane crash-lands near N. 2nd Street and Greenfield Drive in El Cajon. Occupants suffer minor injuries. pic.twitter.com/kUJi5R7aQn

— FOX 5 San Diego (@fox5sandiego) September 17, 2017
Here's a closer look of the plane that crashed in the middle of an El Cajon street. @fox5sandiego pic.twitter.com/zv2wfaP27r

— Kristen Shanahan (@kshanahanWDRB) September 17, 2017