This is an archived article and the information in the article may be outdated. Please look at the time stamp on the story to see when it was last updated.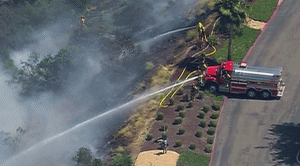 SAN DIEGO — Flames spread through a brushy El Cerrito-area canyon next to Crawford High School Wednesday, prompting evacuations at the campus but causing no reported structural damage or injuries.
The blaze erupted for unknown reasons in the gorge near 58th Street and Andros Place shortly before 2 p.m., according to the San Diego Fire-Rescue Department.
Police directed everyone at the nearby secondary school — which was mostly vacant of students due to a shortened class schedule for the day — to clear out as a safety precaution, said Jack Brandais, spokesman for San Diego Unified School District.
Ground crews and personnel aboard a water-dropping helicopter had the several-acre burn area fully contained within an hour, a dispatcher said.
The cause of the fire was under investigation.