This is an archived article and the information in the article may be outdated. Please look at the time stamp on the story to see when it was last updated.
SAN DIEGO — A small dog took on a coyote in her owners' East County back yard to prevent it from eating a 7-month-old puppy, shelter officials said Monday.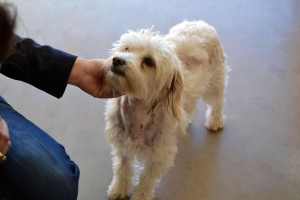 The brave dog , a 2-year-old Maltipoo named Sophie, was bitten on her neck, right shoulder and side, but she prevented the coyote from hurting Lulu, the family's 7-month-old Maltipoo, according to the Helen Woodward Animal Center.
Sophie had lived a pampered life since her East County family brought her home in June 2011, and when the family brought home Lulu last year, she quickly bonded with the younger dog. But in early January, a coyote got into the family's back yard while the dogs were playing and went for the puppy.
Family members heard a yelp, and when they went outside to check, they saw Sophie between the coyote and Luly, according to HWAC. After the coyote attacked the dog, family members scared it off.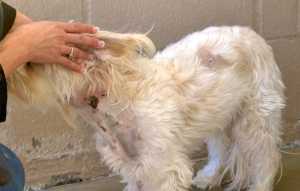 The family took the injured dog to a veterinarian, who stitched her up and put her on antibiotics.
After the attack, the family decided the yard was too dangerous for dog, so they took them to HWAC. Another family adopted Lulu in a matter of days. Sophie is still healing and won't be available for adoptions for another two weeks, HWAC officials said.
Anyone interested in adopting Sophie can contact the HWAC at 858-756-4117 or visit the shelter's website.