This is an archived article and the information in the article may be outdated. Please look at the time stamp on the story to see when it was last updated.
SAN DIEGO – More than 5 million Californians can now get health insurance through the state-run exchange Covered California, yet some small business owners are weighing the benefits of offering coverage for their employees.
Adi Jacobs wants to provide health benefits for his employees at Cabinets Galore, but he said he can't afford it right now.
"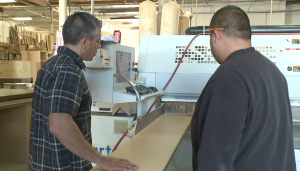 Being in the housing industry and the struggles we`ve gone through in the last seven years, I could barely afford to pay for health insurance for myself and my family never mind my employees," Jacobs said.
Jacobs only has 25 workers so legally he isn't required to provide health insurance, but if he wants to expand in the future he will have to weigh those costs.
"I would love to do the right thing, but my concerns are is it affordable still and how can I help them," Jacobs said.
Calculator: How much will Obamacare cost me?
Financial planner Gary Sussman of Trilogy Financial Services said if Jacobs expands his business to 50 workers or more, he'll have to provide health coverage.
"If he doesn't provide health coverage to those employees he will be subject to a penalty for every employee," said Sussman, based on the 50 or more employees.
Until Jacobs determines his budget and future financial situation, his uninsured employees can go online and use Covered California to shop and compare plans.
Under the Affordable Healthcare Act, all of Jacobs' employees need insurance by 2014 or they will be taxed $95 or 1 percent of their income, whatever is more.