This is an archived article and the information in the article may be outdated. Please look at the time stamp on the story to see when it was last updated.
JAMUL, Calif. – A skydiver was recovering after suffering a medical condition mid-fall causing a device to deploy to automatically deploy Monday afternoon, the owner of a San Diego skydiving company said.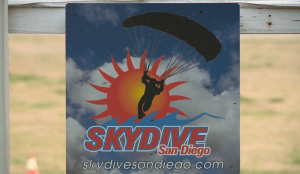 Buzz Fink, the owner of Skydive San Diego, told Fox 5 an experienced skydiver, a man in his 20s, boarded a plane at their Jamul facility shortly before 4 p.m.
About 10 seconds after jumping from the plane, the man suffered a medical condition that caused him to lose consciousness, Fink said. It was unclear what the medical condition was.
According to Fink, the skydiver survived thanks to the Cypres Automatic Activation Device attached to his parachute. Fink said every diver at the facility is required to use one. The device measures altitude and speed and will automatically deploy the reserve parachute if something goes wrong.
"It's measuring what speed you're traveling at and what your altitude is," said Fink. "Under a normal condition the jumper would pull his parachute above 3,000 feet, so when the sensor senses he's at 1,500 feet it would sense a lot slower altitude. In this case when he was going through 1,500 feet it sensed he was going extremely fast and it knew something was wrong."
Fink said the reserve parachute deployed and the man landed over a hill not far from the facility. He said when medical crews arrived the man was concious, but groggy. He was taken to a hospital by ambulance, but Fink said he is expected to be fine.
Without the automatic activation device, often referred to as an AAD, Fink believes the man would have died.
"He wouldn't be here today," said Fink. "You'd be investigating a fatality today if it had not been for the automatic activation device."
Fink said Skydive San Diego was the first facility in the country to require automatic activation devices for all participants. Though they are rarely needed, he and his staff said they have seen them save lives.
"I can tell it makes me sleep better at night knowing all my people have them on, because they've saved a lot of lives," said Blake Robinson, Director of Operations.
Cal Fire responded to the scene, but as of Monday evening was unable to confirm the details of the incident.