This is an archived article and the information in the article may be outdated. Please look at the time stamp on the story to see when it was last updated.
SAN DIEGO — A skydiver who died Wednesday in a jump near Lower Otay Lake may have committed suicide, authorities said.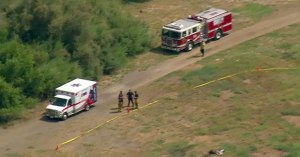 The 53-year-old San Diego resident, identified by the San Diego Medical Examiner Office's as Thomas Steve Clark, plunged into a field off the 13500 block of Otay Lakes Road shortly before 10:30 a.m. and died at the scene, sheriff's Lt. Clayton Lisk said.
The chute he was wearing had not opened, said Buzz Fink, owner of Skydive San Diego, the company with which the man took the jump.
The death appeared to have been a suicide, Fink said. The man's equipment included a device that should have automatically deployed his chute if he failed to do so himself, the business owner said. The mechanism would have had to be intentionally deactivated, Fink said, "so we believe that was turned off."
Clark — who had more than 30 years' experience in sky diving — was going through a divorce and was known to be depressed, according to Fink. "I have known him at-least 15-20-years. It's tough to see someone so depressed that they are willing to take their own life."
The San Diego County Medical Examiner's Office has taken over the investigation.
It was the second skydiving fatality to occur in the same area this year.
On March 30, Skydive San Diego instructor Jordan Janway, 27, plummeted onto a hillside in the Otay Lakes area when his parachute failed to open during a group jump with students.
Janway, a San Diego resident, was the brother-in-law of NASCAR champion and El Cajon native Jimmie Johnson.