This is an archived article and the information in the article may be outdated. Please look at the time stamp on the story to see when it was last updated.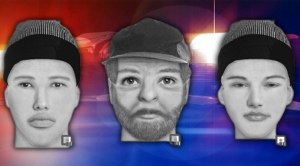 ENCINITAS, Calif. – Sheriff's deputies asked for the public Tuesday to identify three would-be kidnappers who pulled a teenaged girl into a pickup truck in Encinitas.
The 18-year-old woman noticed a small black truck with orange horizontal stripes near the fenders and gardening equipment in the back was following her along the 500 block of Saxony Road toward Puebla Street around 1:30 p.m., according to sheriff's Sgt. Arnold Aldana.
A thin Hispanic or white juvenile guy got out and pulled her into the truck. The driver, a heavy-set Hispanic man between 30 and 40 years old and another Hispanic man aged 25 to 30 was waiting, Aldana said.
The woman punched the driver and bit another suspect, he said.  She was let go from the vehicle and ran to a home nearby for help, the sergeant said.
Anyone with information about the incident should contact Detective Stone at the Encinitas Sheriff's Station at 760-966-3500.