This is an archived article and the information in the article may be outdated. Please look at the time stamp on the story to see when it was last updated.
SAN DIEGO - Police released a sketch and surveillance pictures of an intruder who sexually assaulted a woman Thursday morning in a Little Italy apartment.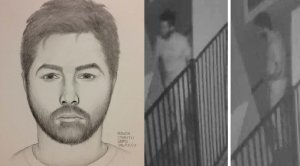 The assault was reported about 1:45 a.m. in the 2400 block of India Street, San Diego police officer Tony Martinez said.
The intruder was described as a white man with tan complexion or Hispanic man between the ages of 25 to 30 years old, 5-foot-9, weighing 170 pounds. He has brown eyes, mustache and beard with brown medium length hair. He was wearing a white t-shirt and blue jeans.
A woman told officers she was awaken by the attack before her boyfriend chased the intruder away, Martinez said.
The man fled out an east gate in the complex, and officers searching the area with the help of a police helicopter were unable to locate the attacker, Martinez said.
Anyone with information about the case has been asked to contact San Diego Police Department's sex crimes unit at 619-531-2210 or Crimestoppers at 888-580-8477.
A reward of $1,000 is offered for information leading to an arrest in the case.