This is an archived article and the information in the article may be outdated. Please look at the time stamp on the story to see when it was last updated.
SAN DIEGO - Authorities Monday released an artist's rendering of a man being sought for following and pestering teenage girls in East County neighborhoods early this summer.
On the morning of June 29, the unidentified man honked his car horn at a 14-year-old pedestrian while driving past her in the Winter Gardens area near Royal Road, then made a U-turn and pulled over to talk to her, according to sheriff's officials.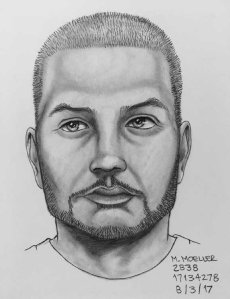 The man told the teen she was "too pretty to be walking" before asking her if she wanted a ride. When she declined, he drove off.
"I got 2 grandkids who are 4 and 5," said Maria Hays.
Hays lives in the Royal Road neighborhood.  She said the incident has her thinking twice about her grandchildren's' safety.
"I'm afraid to let them out, even anywhere around here anymore," said Hays.  "No, no. They'll be with me 24/7 now."
The following afternoon, the man similarly harassed another girl as she was walking her dog in the 400 block of Hart Drive in Bostonia, near El Cajon.
After honking at her while driving by and then turning around, he followed the 13-year-old to an apartment complex, pulled up next to her and inquired about her age and where she lives. When one of the teen's neighbors pulled in to the parking lot, the man drove away.
The two incidents have residents on edge.
"Creepy, it's weird," said Jared Jensen, neighbor.  "It's scary, I would like to think my kid can play outside if they wanted to without too much overview."
Chad Stockwell has lived in the area for 4 years, he said it was no surprise.
"Not with this area," said Stockwell.  "It's a rough edge of town so you might find something like that around here."
The girls described him as a thin Latino in his mid-20s to early 30s with blue eyes, a shaved head and facial stubble. In both instances, he was behind the wheel of a black late-model four-door car, according to sheriff's investigators.
Anyone who might be able to help identify the man was asked to call San Diego County Crime Stoppers at 888-580-8477 or contact the agency online at sdcrimestoppers.org. Tipsters may remain anonymous and could be eligible for a reward of up to $1,000.