This is an archived article and the information in the article may be outdated. Please look at the time stamp on the story to see when it was last updated.
CARDIFF, Calif. — Police released a sketch over the weekend of a suspected prowler who fled from an apartment when the occupant awoke and discovered him standing beside her bed.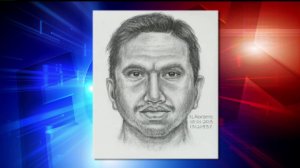 The apartment was in the 2200 block of Carol View Road, and the incident was on Monday.
The suspect was described as Hispanic, about 35 years old, about 5-feet, 8-inches in height, weighing about 160 pounds and with dark hair.
Anyone with information on the suspect was urged to call Det. Shawn Silva of Encinitas Police at 760-966-3533, or the Crime Stoppers anonymous tip line at 888-580-8477. Callers with information leading to an arrest may be eligible for a reward of up to $1,000.