This is an archived article and the information in the article may be outdated. Please look at the time stamp on the story to see when it was last updated.
SAN DIEGO -- San Diego police released a composite sketch Monday of a man suspected of dousing a second man with gasoline or another type of flammable liquid and setting him on fire in a Oak Park-area parking lot, leaving the victim with what are expected to be fatal burns.
The 40-year-old victim was seen fully engulfed in flames in the parking lot of the Rite Aid on Euclid Avenue near 54th Street moments after speaking with the suspect near the bed of a black 1980s Toyota pickup truck with a black camper shell and a white horizontal stripe along both sides, San Diego police Lt. Manny Del Toro said. Someone called for help after spotting the man on fire around 11:45 a.m. Sunday.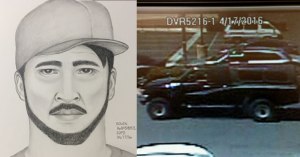 The victim was taken to a hospital with "serious burn injuries throughout his body,'' Del Toro said. He is in critical but stable condition AT UCSD burn center.
If there is some good news, its that the shopping center has many surveillance cameras and the police have seen the video and are confident they will find the man responsible, said Lt. Del Toro "the Toyota pickup truck will the key  to finding this guy who was seen driving at high rate of speed as soon as the gentleman was set n fire."
Police described the suspect as Hispanic, 30 to 40 years old and roughly 165 pounds. He was wearing a red hat, a red shirt and black pants. The suspect was last seen driving the pickup truck out of the parking lot and heading north.
Anyone with information on the case was asked to call police at 619-531-2293 or Crime Stoppers at 888-580-8477.