This is an archived article and the information in the article may be outdated. Please look at the time stamp on the story to see when it was last updated.
SAN DIEGO – A pickup truck was stuck in a sinkhole and homes were damaged after a 12-inch water line broke in Mountain View, just north of National City, Wednesday morning, police said.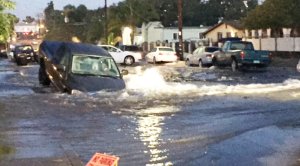 The water main break happened at 4 a.m. at Delta Street and Scott Drive.
Several homes were flooded, including at least four apartments that were seriously damaged, authorities said.
Around 30 homes had their water shut off by 7:15 a.m.
Residents said it was the second time this week a water main break caused an inconvenience in the neighborhood.
Cesar Nunez said his neighbors woke him up to tell him about his Dodge Ram that was stuck in the sinkhole.
"People knocked on my door and said 'hey neighbor, your car is flooding,'" Nunez said. "Four days ago, crews were working on the street fixing something."
City crews made repairs to the pipe a week ago, city officials said. Wednesday's rupture happened due to a small section that failed. The city plans to assess the pipe, which was installed in 1972, and determine if it needs to be replaced.
By Wednesday evening, crews had repaired the water main break and restored water service.
Some residents were displaced due to water damage in their homes.
Crews are scheduled to repave the roadway Thursday morning.