This is an archived article and the information in the article may be outdated. Please look at the time stamp on the story to see when it was last updated.
SAN DIEGO — A  large sinkhole that closed several lanes in the main road to Lindbergh Field was was repaired before noon Wednesday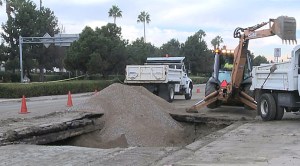 The hole, caused by a ruptured water pipe under North Harbor Drive, occurred about 5:30 p.m. Tuesday but emergency repairs to the pipe continued into Wednesday morning.
For most of the morning, all but one northbound lane of the 4700 block of North Harbor Drive were closed.
All lanes reopened at about 11 a.m.