This is an archived article and the information in the article may be outdated. Please look at the time stamp on the story to see when it was last updated.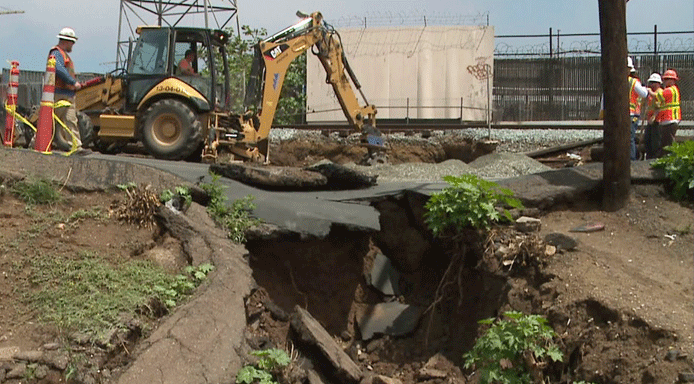 SAN DIEGO – Trolley service on the Blue Line was stalled Monday after a sinkhole was found near tracks in Barrio Logan, officials said.
Metropolitan Transit Service officials announced the Blue Line would be delayed in both directions Monday morning. The sink hole was between Schley and 28 streets.
Crews used a tractor to remove debris in order for workers to fix the sinkhole.
The Blue Line was back to full service around 3:15 p.m., according to MTS officials.
#MTSAlert Temporary repairs to the sink hole are complete & normal operations resume on the Blue Line. Thanks to riders for your patience!

— San Diego MTS (@sdmts) July 20, 2015
MTS sent an alert to riders on Sunday to expect delays in service due to the severe weather hitting San Diego County.
#MTSAlert Flooding, power outages & construction contributing to current delays on all Trolley lines. Expect gaps in srvce, thx for patience

— San Diego MTS (@sdmts) July 18, 2015
#MTSAlert Attn Blue Line riders: We will be single-tracking throughout the day near Barrio Logan as there is a sink hole affecting SB track.

— San Diego MTS (@sdmts) July 20, 2015