This is an archived article and the information in the article may be outdated. Please look at the time stamp on the story to see when it was last updated.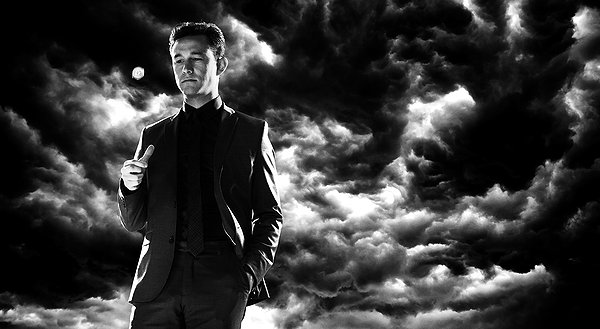 The sin of Sin City: A Dame to Die For is that Frank Miller and Robert Rodriguez even made this mess of a movie.
The cast looks impressive, until you see that Bruce Willis is only in a couple scenes as a ghost. Stacy Keach is so covered in facial prosthetics, he looks like Jabba the Hut. Oh, he also promises a lot of terror in his one scene, and then we never see him again.
Powers Booth, always a great slimeball on screen, was killed in the first movie, wasn't he? Oh hell, who knows. None of the story is following any logical sense and characters are just thrown out there and all become cardboard cutouts and uninteresting.
James Brolin is basically playing the Mickey Rourke character (Marv), but a smaller version of him.
Jeremy Piven has a few fun lines, playing those annoying characters he does so well.
Joseph Gordon-Levitt shows up in his cool '60s Corvette, and narrating the way he did in the much better indie movie Brick. Oh, and he tosses a coin around and does magic tricks, and with a similar hairstyle, as his character in Looper (also starring Bruce Willis).
The only person that's going to like this gratuitous mess is Quentin Tarantino. With each eye ball that's shot (or pulled) out, with each boob on the screen…I picture him laughing with delight at the screening with his buddy Rodriguez.
The movie starts with Marv (Mickey Rourke) killing college kids that were torturing homeless people. Decent enough intro. Again, he complains of memory loss and needing his meds. We see Hartigan (Bruce Willis) watching over Nancy (Jessica Alba) as if the stripper were in 6th Sense. He's wearing the same clothes, has the same expressions, and probably a few of the same lines.
Eva Green (300: Rise of an Empire, Dark Shadows, Casino Royale) is brought in to…well, be naked (if that's what you're looking for with her, rent the horrible French film The Dreamers).
Green's goofy femme fatale character was utterly ridiculous. It's a shame, too. I was a fan of the first movie, which was almost a decade ago. For the filmmakers to do another take on these graphic novels that they're turning into film noir – it makes the one interesting thing about the movie – the visuals (here in 3D) – not even worth sitting for. I was surprised the movie was over at an hour and a half. I thought it had been over two hours.
The dialogue for this is so bad. Yet that's one of many problems. There's also no mystery, no real sense of danger. We really stop caring for all the characters early on. They're flat, uninteresting, and don't seem to have much empathy. They make idiotic decisions about everything, so we sit there waiting for the next action sequence.
Just like everyone's favorite scene in the disappointing Seth MacFarlane movie A Million Ways to Die in the West, the one character we all had fun with was Christopher Lloyd. In this, he's wacky, as the doctor that shoots smack before pulling bullets out of your leg. Hey…if you only have $40 and are walking around Basin City barefoot…
I didn't cringe at the 20th beheading, but the poorly written lines. In one scene, Josh Brolin uses the word "sweaty" three times. In another scene, Powers Booth has a stripper on the ground that he's about to kill. As the gun is pointed at her, he's talking about how she led to his son's death. He barks, "Your man shot my sons pecker off."
As he continues, I think he's going to say "Now…it's tit for tat." And believe me, it wouldn't be above this masochistic movie to have a woman shot in the chest. They have 10 kicks to the groin, eyeballs gouged out, limbs cut off…
No, they're not even that clever. Booth instead says, "Should I shoot that tight stomach of yours?"
So much of this movie felt like 1982. Not just the town cars, huge cordless phones, and bad dialogue – but we get to hear Steven Tyler sing a song that sounded like it was from the 3rd Aerosmith album (Skin City).
This film is one gratuitous mess that doesn't pay tribute to film noir, but insults it.
A few times Brolin has to control himself as he says "Don't let the monster out." I just wanted to be let out of the theatre!
It gets 1 star out of 5.