This is an archived article and the information in the article may be outdated. Please look at the time stamp on the story to see when it was last updated.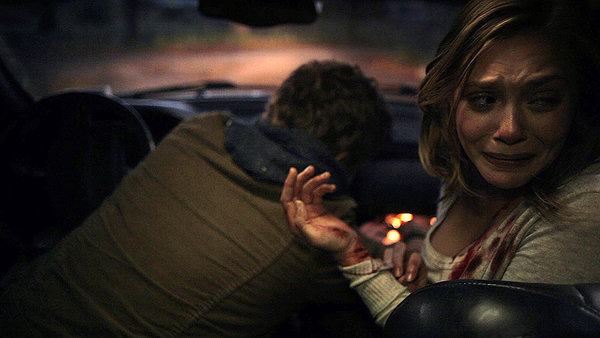 I didn't like the indie movie Martha Marcy May Marlene, although I liked the reception the studio had for the critics. We got good food and wine, while meeting the director and hot new actress Elizabeth Olsen.
Now, just a week before Silent House was released, we heard that her famous Olsen twin sisters retired from acting (who knew they ever started?).
There were a few things to like about MMMM and one of those was Olsen's performance. She knocked it out of the park as a woman who escaped a cult and is living with her older sister.
In this, she has a more dysfunctional family. That's easy to see when her uncle shines a flashlight on her early in the movie, and says something along the lines of "Wow…you sure have grown up," while staring at her for an uncomfortably long time.
The performance from this uncle and his brother, who are fixing up this lake house to sell, is absolutely awful. It reminds me of the type of acting we'd all make fun of from the '70s pornos.
The film was written/directed by Laura Lau and her husband Chris Kentis. They gave us Open Water (I was one of the few critics that liked that; all my friends hated it).
The buzz we heard from this movie is that it was filmed in real time and in one long take (think Hitchcock's Rope). I seriously doubt this was filmed in a single uninterrupted shot, and if it was, who cares. It's still a derivative, gimmicky film that isn't worth your time.
You've seen it all before. The cell phones not working, the house you can't escape from, the weird visuals that have blood dripping out of walls and toilets, the goofy twists (which I won't reveal, in case you actually want to see this).
I would've rather seen a movie version of Full House than Silent House, which just had me wishing I could escape the building. I ended up enduring the entire 88 minutes.
But hey…many great actresses have done a bad horror film early in their careers. This was hers.
Rent Paranormal Activity instead.
This gets 1 ½ stars out of 5.