This is an archived article and the information in the article may be outdated. Please look at the time stamp on the story to see when it was last updated.
SAN DIEGO — Two leaders of the City Council Monday reassured San Diegans that the city's business will continue despite the sexual harassment allegations that have engulfed Mayor Bob Filner.
Both Council President Todd Gloria and Councilman Kevin Faulconer, who leads the panel's Republican faction, renewed their calls for the mayor to resign.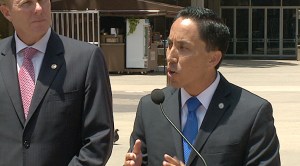 Gloria called the allegations a "shroud of shame" hanging over the mayor's office.
"The City Council has not, and we will not, lose focus on our purpose here at City Hall," Gloria said at a news conference.
He said the council in the next several months plans to address retention issues in both the San Diego Police and Fire-Rescue departments, work on preparations for what could be a difficult wildfire season, and handle infrastructure and water policy changes.
"We cannot efficiently and effectively run `America's Finest City' with this mayor in office," Gloria said. "Any progress made in the coming weeks and months will be done not because of him, but despite of him."
He said that he no longer speaks to Filner outside of closed-session meetings between the mayor, City Council and city lawyers regarding litigation.
Faulconer said that with Filner in office, "San Diego is without a credible citywide leader."
He said the City Council might introduce a resolution in the future that calls for Filner's resignation.